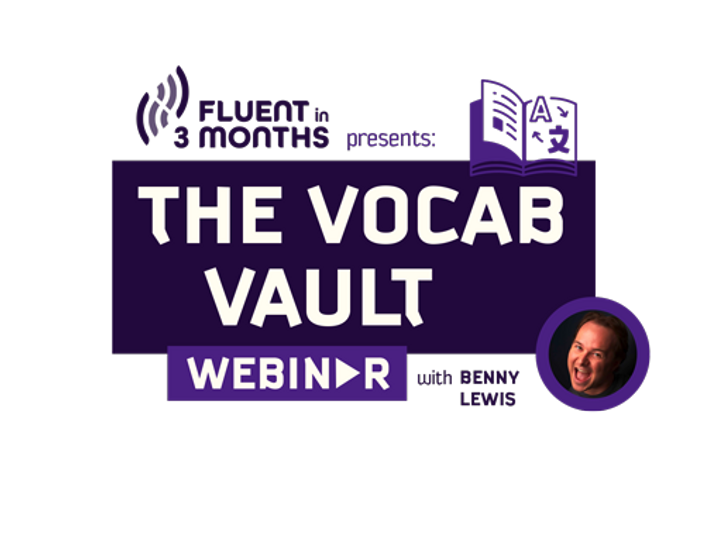 The Vocab Vault
How to Learn Vocabulary to Never Forget It
"Honestly, I found Benny to be a really inspiring person for language learning. Sometimes you just need some inspiration to keep you going with language learning, and I felt I got that here." - Barb Oakley
"I found this webinar extremely helpful and interesting." - Irmarose Whalen

Making new vocab stick in your mind is a skill, and it's one that's easy to learn when you know the right method.
Benny Lewis, best-selling author, TEDx speaker, and self-proclaimed "Language Hacker," is now opening up his Vocab Vault so you'll see for yourself what makes him such an effective language learner.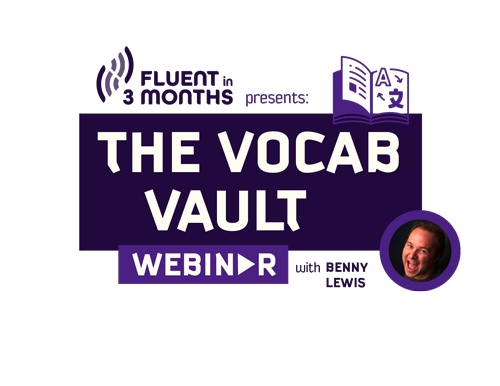 Hello! Benny Lewis here from Fluent in 3 Months.
Learning new vocab and making it stick in your mind for good is a skill you can quickly learn, and I want to show you how.
I created one of the world's most popular language learning blogs to show that languages are much easier than most people think.
Over 600,000 readers have signed up to my email list, and millions of people visit my website every month. I've helped people all over the world learn languages, travel better, and live more fulfilled lives. Now I want to help you too!
I speak seven languages fluently, and many more to a conversational level. A big reason I speak so many languages is because I discovered that improving my memory is a skill – and one I've developed so learning new words and making them stick has become much, much easier.
You can learn these skills and apply them much more quickly than you might imagine. That's why I've decided to open up my "vocab vault" so you can see inside the methods I use to pick up new vocabulary.
The insights I share in this training will help you:
Improve your memory in just 60 minutes
Pick up new words in your target language and make them stick for life
Use your new words in real conversations – no more brain freeze!
During the training I'll share with you:
What my Vocab Vault looks like – and how I use it as a daily tool in my language learning
6 easy language hacks to learn new words faster
When you should start memorising new words (timing matters!)
The most effective methods that make vocabulary "sticky"
How mindset impacts your memory
My "learn as you go" method for vocabulary building
Why memorising vocab is one of my top priorities for any new language
3 simple filters I use when choosing which words to learn next
The "building blocks" method that makes rapid language acquisition easy
How I learn new vocab even on days when I'm pressed for time
How to avoid "brain freeze" and use your new vocabulary in real conversations with native speakers
How to get past a "vocabulary plateau" and keep adding to your vocabulary vault
My favourite apps and resources for making vocab stick
Why vocab matters when you want to speak from Day 1
This is no "broad brushstrokes" overview. I'll be going in-depth and showing exactly what my vocab vault looks like.
In this webinar package you'll get:
A 75-minute webinar with Benny Lewis, founder of Fluent in 3 Months
Lifetime access to the webinar replay (the Q&A session will also be in the replay)
A downloadable PDF guide
You'll walk away with proven hacks for making new words "sticky", so you'll find it much easier to learn a new language.
Follow this link to register now.
Your Instructor