You might know me as the author of the #1 best seller Fluent in 3 Months, and the Language Hacking series of courses. Or you might have seen me profiled in National Geographic or speaking on the TEDx stage.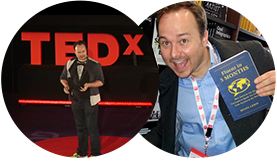 Over the past 10+ years, I've traveled to over 40 countries, become fluent in eight languages, conversational in another four and I've gotten by in over a dozen more.
Thanks to my adventures and the charm of my Irish accent I've been given the nickname Benny the Irish Polyglot.
You've probably guessed that it hasn't always been this way.
Here's a confession:
When I started out, I didn't have a clue about learning languages. I'm not "natural" or "gifted" with languages. And I don't consider myself a particularly talented learner.
In other words... it has taken me years to develop a daily language learning system that works with my hectic lifestyle.
I experimented on myself, using trial and error to find what works. For me, this was an amazing journey. But it was a long journey too. We're talking years.
You can learn this system much, much faster.