The Language Gym
---
Build a daily
language habit…
for good.
---
Finally...

an easy system that walks you through building a language habit – step-by-step – so you'll fall back in love with language learning... and always find the time you need.
Why is it so easy to feel motivated and inspired to learn a language one day...
...then feel "bleugh, what was I thinking?" the next?
I hear from so many language learners who've lost their mojo for languages.
Look at these emails I received:
N
Nick

to me
I am really motivated for a few weeks, and then I just stop.
S
Sille

to me
I just study really infrequently, and I never really apply it.
B
Berkley

to me
My life is so busy with other activities and things I must do that I can never find the time... after a few days I lose motivation and eventually just give up.
M
Mary

to me
I lose interest when it starts getting complicated.
S
Samantha

to me
Between working, cooking, cleaning and running errands sometimes I barely make it to bed on time, let alone practice my Spanish.
E
Easton

to me
When it gets tough, I want to quit... my motivation goes down the drain.
D
David

to me
As soon as it gets hard, I will want to say "Forget it!" and quit.
You can

stay motivated
and stick with it...
Even if you've quit more times than you can count
Even if your default mode is "easily distracted"
Even if you feel like you lack discipline
Even if your life is hectic with so many different priorities
Welcome to
the language gym
Meet Your Personal
Language Trainer,

Benny Lewis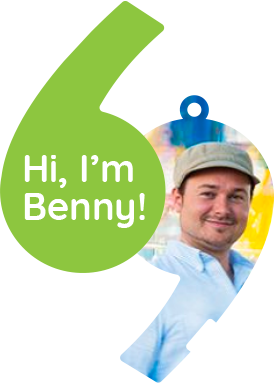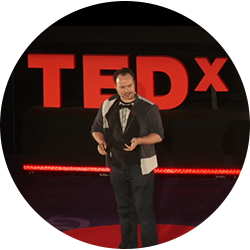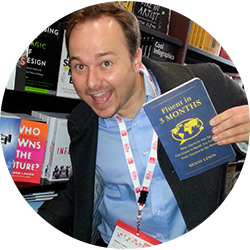 You might know me as the author of the #1 best seller Fluent in 3 Months, and the Language Hacking series of courses. Or you might have seen me profiled in National Geographic or speaking on the TEDx stage.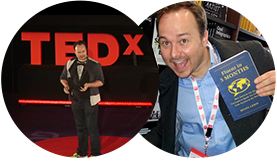 Over the past 10+ years, I've traveled to over 40 countries, become fluent in eight languages, conversational in another four and I've gotten by in over a dozen more.
Thanks to my adventures and the charm of my Irish accent I've been given the nickname Benny the Irish Polyglot.
You've probably guessed that it hasn't always been this way.
Here's a confession:
When I started out, I didn't have a clue about learning languages. I'm not "natural" or "gifted" with languages. And I don't consider myself a particularly talented learner.
In other words... it has taken me years to develop a daily language learning system that works with my hectic lifestyle.
I experimented on myself, using trial and error to find what works. For me, this was an amazing journey. But it was a long journey too. We're talking years.
You can learn this system much, much faster.
You can be a consistent, motivated language learner
I know from experience this system has to be ridiculously easy... so even when things get tough, you can go on autopilot and just do what needs to be done.
That's why I've designed this program to make you keep coming back. I've included deep-level psychological structures in this course to hook you in and reignite your passion for languages.
Language learning really can be a love affair.
This isn't about sharing "tips" or "advice"... it's about giving you the right mindset and the unquenching desire so you become the person you want to be. You become the hero (or heroine) who sticks with it.
Here's what's inside the Language Gym
With the Language Gym, you can crack the code and stick-with-it in your language learning. Inside the Gym, you'll learn:
The HUGE mistake most people make about motivation - and what you can do to put it right
Hacks to feel excited about learning a language - and stay pumped every day
The most powerful technique to burn new vocab into your memory
The reason motivation fades for almost everyone - and what you can do to beat this syndrome
Why most people are programmed to quit language learning - and how you can avoid this destructive pattern
How to make language learning addictive (yes, really. You'll love this hack)
A simple shortcut to make new habits a perfect fit - like your favourite sweater
How to "hack" your brain so you keep coming back again and again to language learning
How to turn your friends and family from language skeptics into allies for your language mission
How to discover up to 60 minutes extra each day for language learning - this isn't about "finding time", but it's time you already have!
The ONE THING that's most responsible for destroying habits - and how you can wave goodbye to this for good.
How to get fast results in your language learning (and feel great doing it)
My "banana smoothie" hack to pick up new vocab without even thinking about it
How to learn a language when all you want to do is waste time
Why ditching language goals is one of the best decisions you'll ever make
How to build real-world conversations with native speakers into your language habit
The reason most people clean up before guests arrive - and how you can use the the same mental trick for language learning
An easy way to pick up 1000's of new words in almost any language
I'll show you how to blend language learning into the daily stuff you already do - so you'll be immersed in your target language even without "finding time" for a study session.
Most importantly, I'll show you, step-by-step, how to build a language learning system that works for you, that grows with you and that will serve you for the rest of your life. Today. Tomorrow. 10 years from now.
With your system in place, every time you want to study you'll be able to start right away. No wasting time thinking "what should I do next?"
You'll know exactly what to do, and when.
That means you can put your language learning on autopilot... and enjoy every moment of your language learning journey.
You Can Access the Language Gym Right Now - and Change Your Approach to Language Learning Forever
I've collected everything you need to follow my system for creating a daily language habit - and distilled it down into 21 mini-lessons.
Each mini-lesson includes a super simple, 5 minute task for you to complete.
Each day you'll be "banking" a language learning task - so you'll be growing your bank balance until you've created a new habit.
What's more, I share the private framework I use to build new habits - so once you've applied this to language learning, you can use it to create new habits in any area of your life.
Are you ready for such a powerful change?
Here's what else you'll get...
Check out these Bonus Packages - Included when you sign up
On top of the 21-day course, I've put together two bonus packages to make sure you've got everything you need to stick with it in your language learning.
Plug-and-Play Modules for Your Language System
An effective language system is made up of building blocks of what works for you.
It's a bit like a famous brand of Danish toys - and just as fun!
That's why I've included over 20 plug-n-play modules you can add to your language system, so you can have a blast building the system that works for you.
Some of these are built into the daily course modules - and I'll send you an extra boost at the end of the course.
10-week Accountability Program
Here's the deal: the science around habit building is still divided. Some researchers say it takes 3 weeks to build a new habit. Other say 10 weeks.
I've put together this course to work either way.
For 21 days, you'll get daily mini-lessons and tasks so you can build a daily habit and construct your own language learning system.
From there, you'll be ready to use your own system.
After day 21, I'll send you weekly check-in emails for 10 weeks to make sure you're sticking with your daily language habit.
By that point, you'll be ready to fly without me as your co-pilot!
Try the Language Gym risk-free:

14-Day No Questions Asked Guarantee
I'm certain that the Language Gym will give you everything you need to build a new language habit. If for any reason it doesn't, I insist you have your money back. Just email me within 14 days of joining, and I'll send your refund. No questions asked.
Join Today!
Join me on this life-changing program!