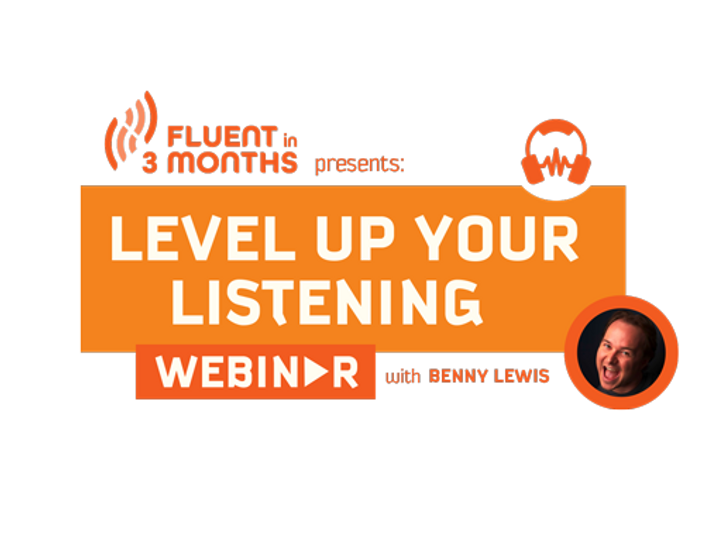 Level Up Your Listening
Shed Your 'Listening Blocks' and Finally Understand Native Speakers
"I always find these webinars inspiring & energizing - it's a great boost for my enthusiasm :)" Heathyr
"I was able to gain a strong understanding of how I can REALLY gain good listening skills. Because the instructions were clear and the slides were comprehensible." Bibi

Follow Benny's roadmap to mastering the most important skill to learn in any language.
When you beat your 'listening blocks' you open up a whole new world in your new language. So you can:
Enjoy Netflix shows
Watch YouTube
Listen to podcasts
Binge on TikTok
Stream music on Spotify (and sing along)
Tune in to local radio stations
Have real conversations with native speakers
In my webinar Level Up Your Listening, I'll show you how to start achieving the above outcomes much faster than you might imagine.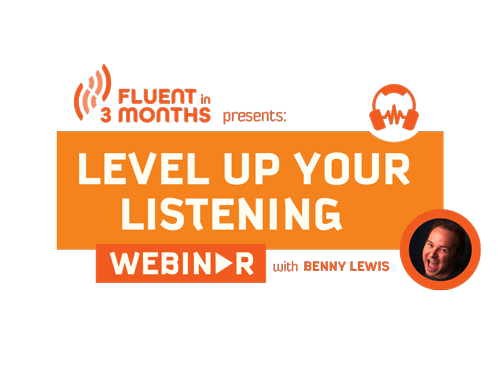 In case you're wondering who I am:

Hello! I'm Benny Lewis from Fluent in 3 Months.
More than 250,000 readers have signed up to my email list, and millions of people visit my website every year. I've helped people all over the world learn languages, travel better, and live more fulfilled lives.
I speak seven languages fluently, and many more to a conversational level.
My mission is to inspire people to learn languages and help them push at the limits of what they believe is possible.
That's how I ended up creating Fluent in 3 Months – because I wanted to share my top language hacks.
And now, I'm focusing down onto one of the most important language skills of all – listening.
The insights I share in this training will help you:
Beat the listening barrier – and start making real progress with your listening skills.
Get the most out of authentic content on your favourite streaming apps – even if you're a complete beginner.
Learn new ways to use Netflix, YouTube, Spotify to stretch your listening skills and reach listening mastery.
Whether you're learning a language to chat with native speakers, enjoy international Netflix shows, or unlock a whole new world of YouTube videos, this webinar will show you how to reach your goal faster, and have fun along the way.
During the training I'll share with you:
Where to find the best audio content to improve your listening skills online (and the exact search terms to use)
Search filters to apply for beginner, intermediate and advanced content
How to pick audio content that fits with your lifestyle and the time you've got available for learning
Language hacks to improve your listening skills with YouTube, Netflix, Spotify, Audible, Instagram and Tiktok
The right way to take notes when you're upgrading you're listening skills
How to improve your listening skills with a language exchange partner or online tutor
YouTube search hacks to find the most helpful videos for improving your listening skills
How to apply the "transcription technique" to speed up your learning
Where to find the best radio stations and podcasts to give your listening skills a boost
How I use simple listening hacks to start speaking a new language in real conversations from day 1
"Green flags" to give you instant confidence that a piece of content will improve your listening skills
It's time for you to expand your listening skills with Benny's proven listening strategies.
You'll learn the skills you need to understand YouTube, Netflix and Spotify in any language.
In this webinar package you'll get:
A 75-minute webinar with Benny Lewis, founder of Fluent in 3 Months
Lifetime access to the webinar replay (the Q&A session will also be in the replay)
A downloadable PDF guide
Join me in Level Up Your Listening to get your listening skills in shape.
Follow this link to register now.
Your Instructor