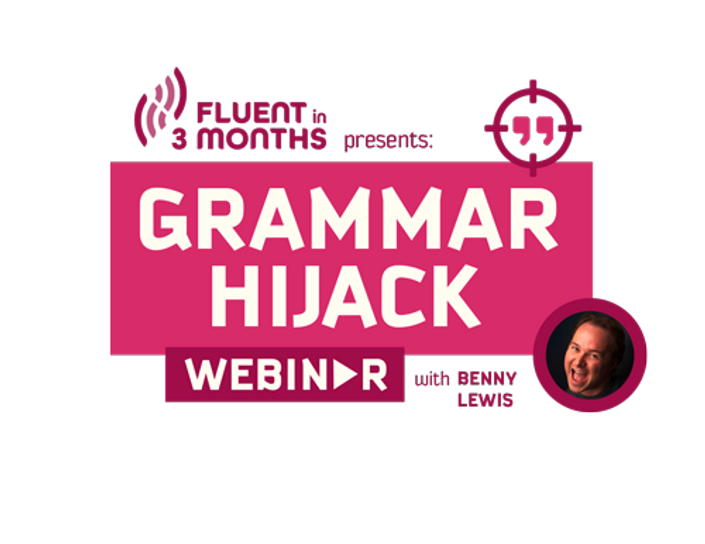 Grammar Hijack
Skip the Rules to Learn Faster and Smarter
LIVE Special Training Event on June 27th, 2022
9am Pacific time / 12pm New York time / 5pm London time
"Let's face it, grammar is boring. But you don't need to get bogged down in it. There is a better way" - Benny Lewis, polyglot and TEDx speaker
I'm set to bust another myth about language learning. That myth is "you must learn grammar".
Grammar is a huge roadblock for many language learners.
If you ever learned a language at school (like I did), you were likely taught to focus on grammar.
This is completely back-to-front.
I've discovered something that's revolutionary for many language learners: it's okay to ignore grammar.
In fact, I recommend most beginner language learners ignore grammar. It's the wrong skill to focus on when you're starting out.
So, let's start a mutiny ! I want to show you how to hijack grammar, and focus on what matters.
In this webinar you'll discover how to learn a language with confidence, without memorizing or even thinking about grammar rules.
You'll learn how to get over your grammar fears and build real confidence in your language learning.
I'll be giving you the exact approach I use when it comes to grammar. This will include showing you the right time to learn grammar, as well as sharing the skills you should focus on before you even think about grammar.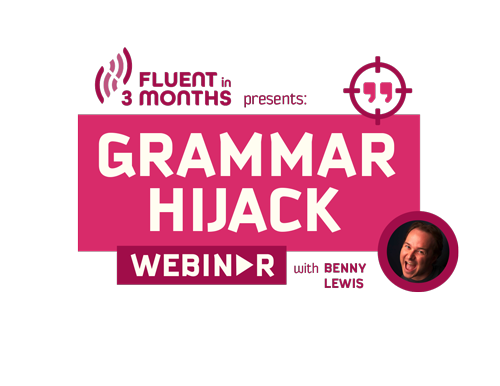 Hello! Benny Lewis here from Fluent in 3 Months.

More than 250,000 readers have signed up to my email list, and millions of people visit my website every year. I've helped people all over the world learn languages, travel better, and live more fulfilled lives.
I speak seven languages fluently, and many more to a conversational level.
My mission is to inspire everyday people to learn languages and help them push at the limits of what they believe is possible.
That's how I created my "speak from day one" method. When I first discovered this method, I quickly went from struggling language learner to confident speaker..
In this Grammar Hijack webinar, I'll show you how grammar fits in with the language hacking method.
The insights I share in this training will help you:
Beat "grammar dread" and build real confidence at speaking your target language.
Make grammar interesting – so that when you start to learn grammar it makes sense, and you enjoy it.
Know when to ignore grammar rules – so you can get ahead in your language skills without worrying about grammar.
Grammar is a part of any language, but it's not the only thing that matters. With this webinar, learn how to get past grammar worries so you can finally start focusing on what really matters when it comes to learning a new language.
During the training I'll share with you:
Why I put grammar last when learning a language.
My "speak like Tarzan" and "Captain Jack Sparrow" methods for hijacking grammar rules.
3 essential language skills to learn before you even think about grammar.
The grammar trap many learners fall into - and how to escape it..
How I spark a true interest in grammar at the right time when grammar actually matters.
The "click" moment when grammar becomes interesting – and how you can reach this.
Where to focus your "grammar attention" when you start learning a language.
Making sense of grammar exceptions.
Why pattern recognition matters for learning grammar and how you can improve your ability at this skill.
Grammar shortcuts to make grammar easy.
Tips and tricks for understanding grammar in context (so you can skip past the rules and focus on the skills that really matter).
How I use mnemonics to improve my grammar skills.
Recommended resources for when you're ready to dive deeper into grammar.
It's time to stop letting your grammar worries hold you back, and start speaking your new language with confidence. So join Grammar Hijack now.
In this webinar package you'll get:
A 75-minute webinar with Benny Lewis, founder of Fluent in 3 Months
Lifetime access to the webinar replay (the Q&A session will also be in the replay)
A downloadable PDF guide
Join me in Grammar Hijack to beat your grammar fears and find new confidence for language learning.
Follow this link to register now.
Your Instructor