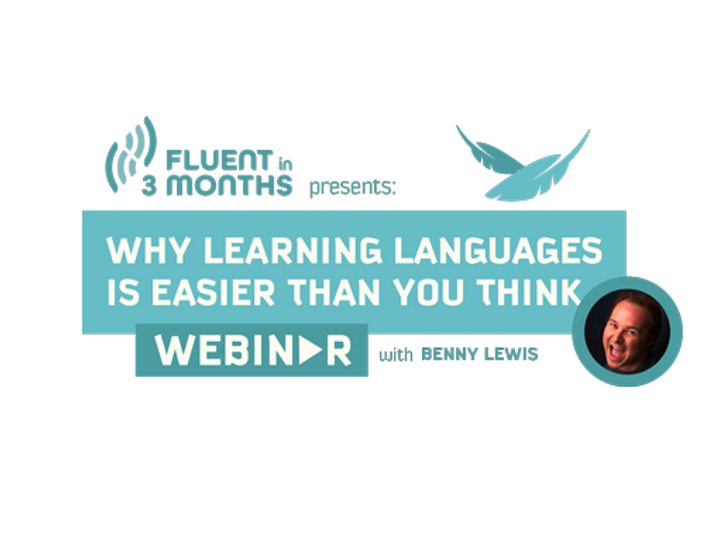 Why Learning Languages is Easier than You Think
The Myths that Hold Language Learners Back - and How to Beat Them
"This was a very informative and motivational pep talk!! What a great way to kick off another year of language learning! Thank you so much, Benny!" — Rashidah

"I discover great tips and techniques every time I listen to one of these webinars." — Jennifer
Benny Lewis, best-selling author, TEDx speaker, and self-proclaimed "Language Hacker," tackles the common myths that hold language learners back.
"No matter what language you're learning, this webinar will help you succeed." - Benny Lewis, TEDx Speaker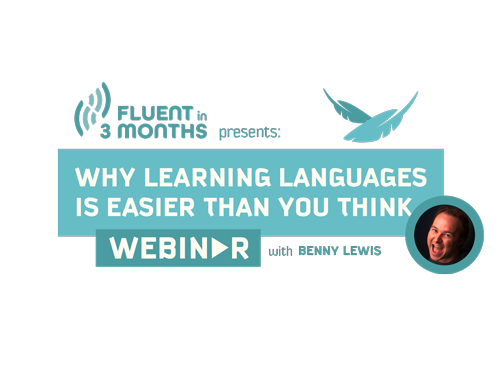 Hello! Benny Lewis here from Fluent in 3 Months.

Learning a new language can seem like a daunting task. But it doesn't have to be.
I created one of the world's most popular language learning blogs to show that languages are much easier than most people think.
With over 300,000 email subscribers and millions of website visitors every month, I've helped people all over the world learn languages, travel better, and live more fulfilled lives. Now I want to help you too!
I speak seven languages fluently, and many more to a conversational level. A big reason I speak so many languages is because I know how to find the aspects of a language that are easy.
Language learners are often faced with the same questions, doubts, and roadblocks. I hear them all the time from my readers and students.
Most of these roadblocks are based on myths or anxieties, rather than the facts about language acquisition.
Languages are much easier than you think, when you know how to look at them. Now in my new webinar I'm going to share what makes languages easy to learn - featuring case studies from real life language learners.
With this webinar, you'll discover all the best early-day strategies so that you can start learning the language of your choice with ease.
The insights I share in this training will help you:
Shift your mindset so you'll feel confident tackling any language
Identify the roadblocks that hold back your language learning - and build a plan to beat them
Know where to start to quickly build momentum in your learning
During the training I'll share with you:
The 3 biggest blocks that stop people learning a new language — and how to beat them
The myths about language that almost everyone believes are true, and that likely hold you back from fulfilling your true potential as a language learner
How I use conversation fillers, booster verbs and versatile verbs to make it easy to build sentences
Where to direct your energy to get maximum results from your language learning
How the stories we tell ourselves about a language (rather than the language itself) make it seem difficult — and how to shift those stories to make languages seem easy
How "personal context" makes a language hard, and the steps you can take to shift this
Why your target language is (almost certainly) not as "foreign" as you think
How learning plateaus lead to myths about languages
Mindset shifts to smash through the most powerful and pervasive language myths
Real-life case studies and examples from everyday language learners who have overcome these myths
How to focus on what you really need to speak the language (hint: it's not usually the hard parts)
I'll be including case studies on Spanish, French, German, Korean, Japanese, Italian, Chinese and Russian - with specific examples to show why these languages are easier than you think
In this webinar package you'll get:
A 75-minute webinar with Benny Lewis, founder of Fluent in 3 Months
Lifetime access to the webinar replay (the Q&A session will also be in the replay)
A downloadable PDF guide
You'll walk away with a roadmap for any language, so you'll have the confidence you need to get started.
Follow this link to register now.
Your Instructor