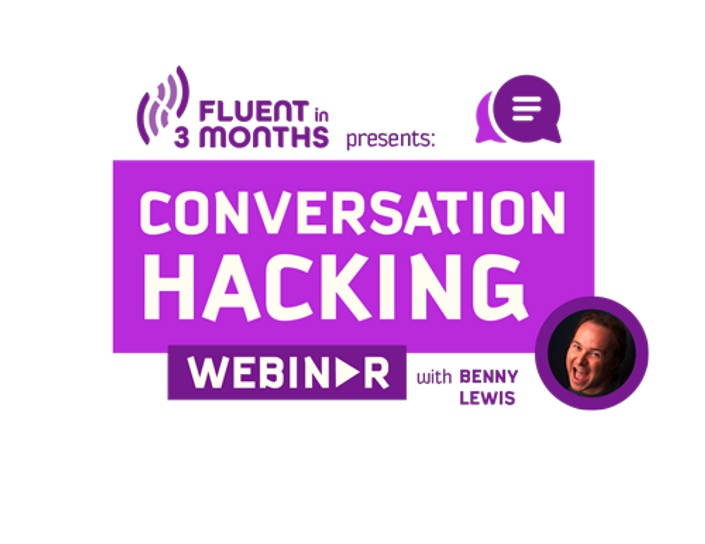 Conversation Hacking
Speak Your Way to Fluency in Real Conversations
LIVE Special Training Event on June 21st, 2022
9am Pacific time / 12pm New York time / 5pm London time
"My approach to language hacking is about more than just speaking the language – it's about having real conversations, from day one!" - Benny Lewis, polyglot and TEDx speaker
Conversation Hacking is for people who don't have time for courses, textbooks, or formal lessons.
It's a practical, step-by-step method that will help you speak the language in real conversations with native speakers. Starting today.
With Conversation Hacking, you'll be able to speak with real people from the start, even if you're a complete beginner.
Most people learning a language want to speak it, and connect with real people, and now you can do that right away.
This webinar will show you the basics of how to make conversations easy in any language, no matter what your level. You'll be able to follow along with conversations in a language you're learning, even as a complete beginner, and always have something to say
I'll also share how to create your own "mental phrasebook" so you're ready for any conversation situation. This is your own personal cheat sheet to make sure you never forget what to say, and so you're ready for any conversation that comes your way.
In this Conversation Hacking webinar I'll be giving you the exact method I follow to have real conversations in a new language, right from the start.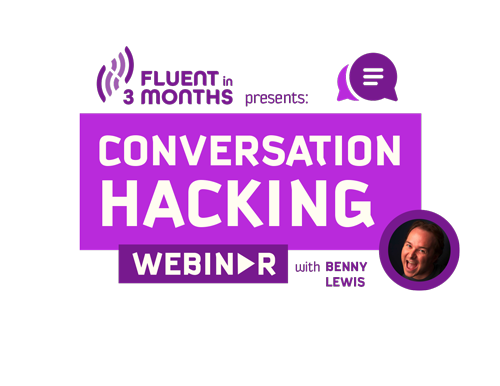 Hello! Benny Lewis here from Fluent in 3 Months.
More than 250,000 readers have signed up to my email list, and millions of people visit my website every year. I've helped people all over the world learn languages, travel better, and live more fulfilled lives.
I speak seven languages fluently, and many more to a conversational level.
My mission is to inspire everyday people to learn languages and help them push at the limits of what they believe is possible.
That's how I discovered my "speak from day one" method. When I first discovered this method, I quickly went from struggling language learner to confident speaker. It's my top language hack, and one of the most powerful language hacks around.
You want to speak and connect with real people. Now you can. And in this Conversation Hacking webinar, I'll show you how it's done.
The insights I share in this training will help you:
Learn a language by speaking – so you'll be mastering the skill that matters, right from the start.
Stop wasting time – because you'll ignore the textbooks and instead focus on making real connections with native speakers.
Make conversations easy - so you'll have the confidence to speak in any situation.
Whether you're learning a language to travel the world, connect with new friends, or open your mind, this webinar will show you how to learn a language exactly as you'd use it in the real world: to build connection.
During the training I'll share with you:
How to create your own "mental phrasebook" so you're ready for any conversation situation.
Dozens of language techniques I tried that held back my learning – and what actually works for learning fast.
My conversation hacks "origins story" from when I moved to Spain.
How to prepare for conversations in your target language.
My favorite go-to scripts when I'm starting a language, and how you can adapt these for your own use.
How to decide the words and phrases you need to learn for your next conversation.
My step-by-step script building method, so you can follow along and build your own conversation script.
How to spark off real conversations with the locals while you're travelling
What to do when your conversation partner says something you don't understand.
"Swiss army knife" phrases that are multi-purpose and will work in almost any conversation.
"Conversation fillers" that keep things moving along even when you're not sure what to say.
100's of words you almost certainly know already in your target language (and how to find out what these are)
How to use question loops to keep the conversation flowing.
Essential phrases to learn first as a conversation hacker.
How to practice conversation steering to keep conversations on track.
It's time you stopped waiting to speak and started having confident conversations in your target language – so join Conversation Hacking now.
In this webinar package you'll get:
A 75-minute webinar with Benny Lewis, founder of Fluent in 3 Months
Lifetime access to the webinar replay (the Q&A session will also be in the replay)
A downloadable PDF guide
Join me in Conversation Hacking to start speaking your new language in real conversations, today.
Follow this link to register now.
Your Instructor