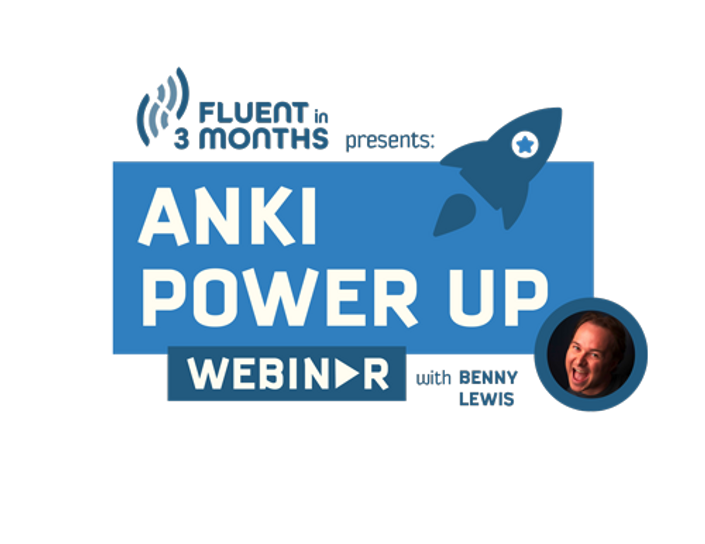 Anki Power Up
Beat the "Forgetting Curve" with the Power of Spaced Repetition
"I feel reinvigorated. I'm getting ready to take my C1 and I was getting a little bored with my current routine, I think this might give me another way to study. " - Dan Bain

"Many thanks - that was a positive, cheerful session and also useful." - Patsie Costello

I'm sure you know the feeling when you have learned a word, and you're certain you should know it, but you just can't say it.
You've just missed the "window of opportunity" to cement that word in your memory. Words stick in your memory most powerfully when you recall them just before you're about to forget them.
How can you make sure you do that?
Anki solves that problem. And all it takes is a few minutes a day… if you use it right.
Using the scientifically proven method of Spaced Repetition, Anki makes sure that none of the material you're learning will ever be neglected.
It's been called "the most powerful technique in existence for improving your brain's ability to recall what you study."
In my webinar Anki Power Up I'll be sharing the exact method I follow to build powerful Anki decks that ensure new words stick in my brain, for good.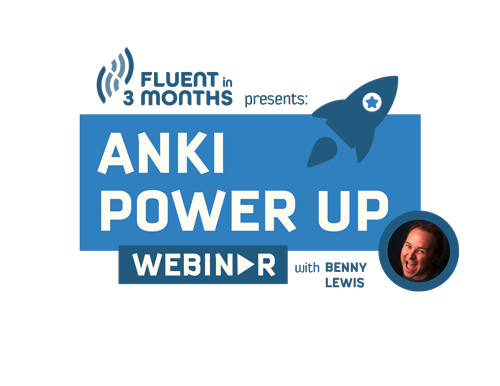 Hello! Benny Lewis here from Fluent in 3 Months.
More than 250,000 readers have signed up to my email list, and millions of people visit my website every year. I've helped people all over the world learn languages, travel better, and live more fulfilled lives.
I speak seven languages fluently, and many more to a conversational level.
My mission is to inspire everyday people to learn languages and help them push at the limits of what they believe is possible.
That's how I ended up using Anki. When I first discovered Anki, I quickly saw its potential and realized that it's one of the most powerful language hacks around.
And in this webinar, I'll share with you how to use Anki the right way.
The insights I share in this training will help you:
Make new words stick in your mind - so you'll be able to recall them when you need them.
Save time and learn faster – because you'll be using a method that's been scientifically proven to be one of the most effective for boosting your memory in a short space of time.
Beat the "forgetting curve" and turn it around so it actually becomes a "memory curve".
Whether you're learning a language to travel the world, connect with new friends, or open your mind, this webinar will show you how to get more out of every minute of study time and make it easier to recall that knowledge when you need it most.
During the training I'll share with you:
My favorite language hack for learning faster and remembering more
How Anki and spaced repetition will help you beat the "forgetting curve" and boost your brain's ability to recall what you've learned
My "me-specific" language hack for building vocab lists, and how I turbocharge this with customized Anki decks
The filters I use when deciding which words to include in an Anki deck
How to sync Anki between your phone, tablet and computer so you can boost your memory anytime, anywhere
My deck "entry point" so I know exactly when I'm ready to build a new Anki deck
Where I go to download pre-built Anki decks - these are a great way to get started before building custom decks
How to integrate Anki with my "speak from Day 1" method
Deck archetypes to focus on different areas of learning - so you can target weaknesses or develop strengths
How to use Anki to build language islands
The "story method" for building the most relevant and useful Anki decks, so you'll quickly build up to in-depth conversations in a new language even as a complete beginner.
It's time to put the power of mastering your memory into your own hands – and Anki gives you that power.
In this webinar package you'll get:
A 75-minute webinar with Benny Lewis, founder of Fluent in 3 Months
Lifetime access to the webinar replay (the Q&A session will also be in the replay)
A downloadable PDF guide
Join me in Anki Power Up to boost your memory and recall for languages in just a few minutes a day.
Follow this link to register now.
Your Instructor