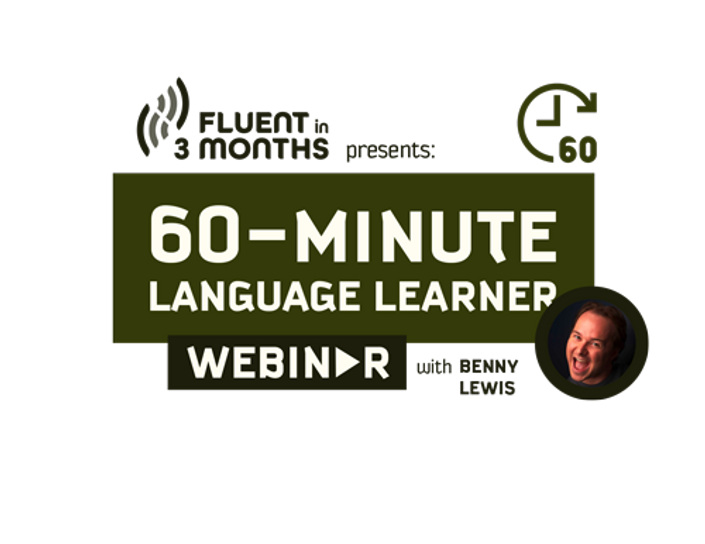 The 60-Minute Language Learner
Powerful Insights from My Shortest Ever Language Mission
"All the tips were useful to me and I'll be able to incorporate many of them into my daily language learning." - Barbara

"I'm sharing the exact steps I follow in my first hour with a new language." – Benny Lewis, polyglot and TEDx speaker
Can you really learn a language in an hour?
I've tried it. It's like Mission Impossible – the rel life version.
But actually, I love the question. It pushes the limits. It creates new possibilities you might never otherwise have imagined.
The truth is, you can learn a lot more in 60 minutes than most people think.
And you can be ready for your first conversation in a new language after just an hour of learning.
I know this from completing my shortest ever mission.
This mission was unlike anything I'd done before. And it became one of my most powerful learning experiences.
In my webinar The 60-Minute Language Learner I'll be opening up on the exact steps I followed to complete my own 60-minute language mission – and the results I achieved.
You'll discover just how far you can get with a new language with just one hour of focused learning.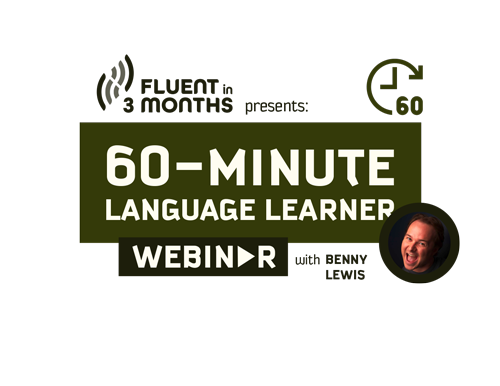 Hello! Benny Lewis here from Fluent in 3 Months.
More than 250,000 readers have signed up to my email list, and millions of people visit my website every year. I've helped people all over the world learn languages, travel better, and live more fulfilled lives.
I speak seven languages fluently, and many more to a conversational level.
My mission is to inspire everyday people to learn languages and help them push at the limits of what they believe is possible.
That's why I took on a 60-minute language mission, and it's why I want to share exactly how I did it.
The insights I share in this training will help you:
Demolish limiting beliefs – so you can stop holding back and start getting results
Discover what's possible in just a few minutes of learning so you'll always have a go-to method to build your language skills in every spare moment
Build a powerful resource base to maximize every second you have available for learning
Whether you can spare a full hour, half an hour, or just five minutes, you'll know exactly what to do to make the most of that time.
During the training I'll share with you:
How I learned the basics of a new language in 60 minutes - with a step-by-step breakdown
Your top 3 priorities in the first hour of learning (plus the one thing you MUST ignore)
How I uncover clues and decipher what's being said when I'm speaking a language for the first time – this makes conversations possible even as a complete beginner
Two key phrases that are vital to learn right away
How I use "knowledge transfer" to speed up my language learning
Why Google Translate is your friend as a beginner learner - and how to use it for maximum effect
How to make the most of small pockets of time in your day
Dozens of insights from polyglots and high level language learners on how to use spare moments to boost your language skills
Whether it's during a coffee break, on your commute, or while you're grabbing lunch—you always have time for a language learning session. And I want to help you get the most of that time.
In this webinar package you'll get:
A 75-minute webinar with Benny Lewis, founder of Fluent in 3 Months
Lifetime access to the webinar replay (the Q&A session will also be in the replay)
A downloadable PDF guide
Join me in The 60-Minute Language Learner and discover strategies and shortcuts that make every moment count.
Follow this link to register now.
One more thing…
You don't need a full 60-minutes to improve your language skills.
That's why I'll also be sharing my "fast track" learning system.
With this easy set-up system in place, you'll find it simple to get a quick boost for your language skills in spare moments.
Follow this link to register now.
Your Instructor