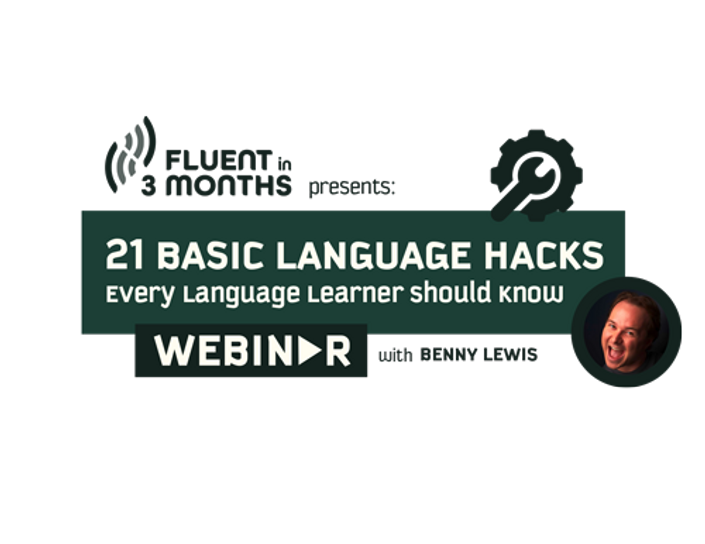 21 Basic Language Hacks Every Language Learner Should Know
Unconventional Methods to Learn a Language Faster
"Discover everything I wish I knew when I started language learning." – Benny Lewis, polyglot and TEDx speaker

"Thanks so much for sharing all your expertise and for including me in the webinar!" - Heathyr
"Great incentive to really push for my B1." - Carly

Language hacking is an unconventional method I devised for learning a language faster and smarter.
I created language hacks after I found "traditional" learning methods are broken:
I learned German at high school for 5 years – and could barely string a sentence together
I tried moving to Spain to learn Spanish - that alone wasn't enough
I took a classroom Spanish course for 6 months - and I still struggled to even order a coffee in Spanish
Then I had a lightning bolt moment:
There must be another way.
As I searched for a new method of language learning, I unlocked my first language hack: speak from day one.
I discovered the best way to learn a new language is to actually speak it, right from the start.
This might sound obvious, but I'd never encountered this approach in traditional learning environments.
In my webinar 21 Basic Language Hacks Every Language Learner Should Know I'll be sharing all my fundamental language hacks to help you go from zero to fluency faster, and with less stress.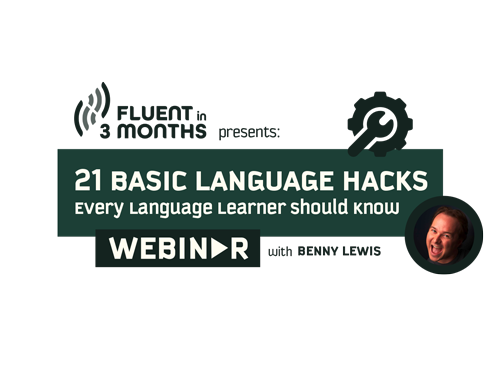 In case you're wondering who I am:
Hello! I'm Benny Lewis from Fluent in 3 Months.
More than 250,000 readers have signed up to my email list, and millions of people visit my website every year. I've helped people all over the world learn languages, travel better, and live more fulfilled lives.
I speak seven languages fluently, and many more to a conversational level.
My mission is to inspire people to learn languages and help them push at the limits of what they believe is possible.
That's how I ended up creating Fluent in 3 Months – because I wanted to share my top language hacks.
And now, I'm pulling them all together into a single webinar.
The insights I share in this training will help you:
Reach conversational fluency faster – and have confident conversations in your new language.
Make the most of your time when you're learning a language – so you'll see results quickly.
Get ahead in your language journey by focusing on what works.
Whether you're learning a language to travel the world, connect with new friends, or open your mind, this webinar will show you how to reach your goal faster, and have fun along the way.
During the training I'll share with you:
What I wish I'd known about language learning when I started out
The #1 hack I use immediately every time I start a new language
Personal stories of how I apply language hacks to learn faster and smarter
How I use language hacks to beat embarrassment and get speaking
Out of the box ideas to make you a more effective language learner
How to apply language hacks in your own language learning
How I use conversation hacks to start speaking a new language in real conversations from day 1
Vocab hacks to help new words stick in your mind - so you can recall them when you need them
How I hack my brain to keep focused in my daily language sessions
The mindset hacks I use to maintain momentum for a full 3-months of learning a language
How I hack my home (or Airbnb) into an immersive language environment
Time hacks that mean I get more done in a shorter time period
How to trial new hacks for yourself and integrate them into your own learning
It's time for you to follow the fastest route to where you want to be in your language learning. Get your roadmap with my 21 fundamental language hacks.
You'll start speaking a language in a fraction of the time compared to traditional language learning methods.
In this webinar package you'll get:
A 75-minute webinar with Benny Lewis, founder of Fluent in 3 Months
Lifetime access to the webinar replay (the Q&A session will also be in the replay)
A downloadable PDF guide
Join me in 21 Basic Language Hacks Every Language Learner Should Know to discover my unconventional methods and become a smarter, more effective language learner.
Follow this link to register now.
Your Instructor